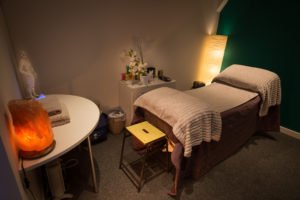 If you need a therapy room, we welcome excellent, like-minded therapists to our UK Award winning business . Whether you have hundreds of clients or are just starting out we'd like to hear from you if you believe in our ethos of #feelgoodliving. Similarly, we like to work closely with like-minded businesses that can add real health benefits to our clients. 
We have very reasonable pricing options for therapy or consulting room use from as little as one hour, with no fixed or long-term commitment to therapy room rental.
All rooms are furnished to a comfortable professional standard and have hot and cool air-conditioning, power sockets and Guest wifi. There are two holistic-style rooms as shown with plinths or massage tables, two rooms with seating layout suitable for counselling and consultation and a mixed-use room ideal for physical and clinical therapies. Rooms are on the first floor of the building reached by stairs with handrails both sides and access to guest kitchen and toilet facilities. If you're looking for a therapy room, consultation or meeting room in Neath, we'll happily show you the rooms if arranged in advance (as the rooms are in demand and in constant use).
In addition to the room use we have full administrative support and access to online booking for you and your clients and are happy to take credit card payments on your behalf as well as send appointment reminders and any special offers you may want to offer.
If you think we might be on the same page, please get in touch today to discuss how in collaboration we might make a Healthier Happier & more Hopeful World.