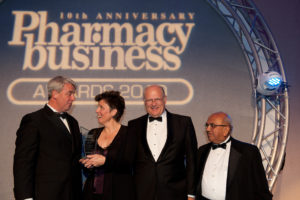 PRESS RELEASE:
Alison Sparkes beat off some fierce competition to win the prestigious 2010 Pharmacy Business  Patient Services Award.
Alison was honoured with the award, sponsored by Sandoz, at a glittering 2010 Pharmacy Business Awards ceremony at the Park Plaza Hotel in Westminster on Thursday evening in front of nearly 900 guests and before the Secretary of State for Health, Andrew Lansley, who spoke at length about the important role of community pharmacy in reforming the NHS.
Feverish celebrations were left to Alison and her team at the Medicine Centre in West Glamorgan, who were handed a cheque for £2,000 after impressing an eminent panel of Pharmacy Business judges.
Alison was born and bred 200 yards from her pharmacy. When she relocated the branch in 2000, she made the brave decision not to use the word pharmacy as she had the foresight to see that the pharmacy of the future would be based around a number of services and wanted her pharmacy to be a 'centre of excellence.'
Recently refitted to a very high standard, there are four large consultation areas for weight management (60 patients a week), Chinese medicine, Health Checks, Allergy Screening and Medicine Use Reviews (300 this year). She also became an accredited 'Investors in People' and, working with an annual business plan, she has regular individual reviews with her staff to map their progress against the needs of the business and the core values they have agreed as a team. This has allowed the business to punch above its weight in terms of turnover in the face of fierce competition. She has also invested heavily in staff training and development and those who work for her are highly motivated and happy.
The awards also provided a platform for Lansley to hail the work of community pharmacists. The Government's Health White paper, 'Equity and Excellence: Liberating the NHS', is the most fundamental reform of the health service since it was established in 1948 and the Secretary of State assured community pharmacy it will be given a prominent role in healthcare provisioning.
"This gives me the chance to say, quite early on since the formation of the coalition Government, how important pharmacy is and will be in delivering better health care to the people of this country," he said. "Increasing quality, deriving innovation, improving productivity – this is the stuff for improving customer services and improving success in competition with others. We have to deliver excellence and that excellence will come if we harness innovation and enterprise and competition to secure for the commissioners the very finest possible services and a culture of continuous improvement.
"I know, because I've been with so many community pharmacists, that they bring those things to bear. Not only efficient in terms of dispensing but thinking constantly how medicines management can be achieved more effectively."
Pharmacy Business executive editor, Shailesh Solanki, urged the Government to fulfil its promise of "a bold new vision for the future of the NHS based on the principles upon which it was founded" and assured the Secretary of State for Health that "pharmacy is ready and able to play a leading role in the future of the NHS."
Solanki added: "It must be given a prominent role in the decision making structures under your new proposals. Whilst we welcome many of these proposals there are uncertainties as to the future of pharmacy in a fully integrated NHS.
"PCTs failed to engaged with Pharmacy so we must ensure the new commissioners of services do not repeat mistakes of the past. In reality the reforms present a huge opportunity for pharmacy to show it can deliver."
Solanki described the £140 million Government claw backs as "drastic and sudden at a time when access to credit is still difficult for many pharmacists." He also insisted that the potential for pharmacists to help a strained NHS should be exploited, because "pharmacists have the expertise to provide a full range of enhanced services" such as cardiovascular checks, minor ailment services, early health interventions for conditions like diabetes and the ability to educate communities to lead healthier lives."
~ENDS~