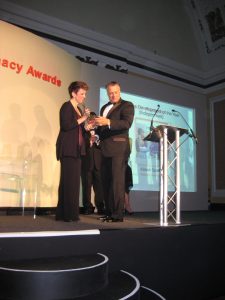 Pharmacist Alison Sparkes proudly picked up the award for Business Development in Independent Pharmacy at the Welsh Pharmacy Awards
Hosted by the Welsh Chemist Review magazine, this was the 3rd annual award ceremony which is growing in in strength and showcases the amount of hard work, determination and care that pharmacists have in their work. It recognises not only their outstanding skills and innovations but presents pharmacists with the opportunity to be recognised for best practice and excellence.
The Welsh Pharmacy Awards were held on 12 May in Cardiff City Hall.