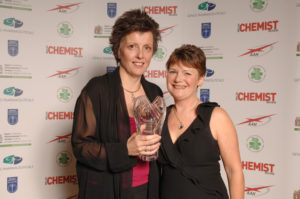 PRESS RELEASE
Managing Healthcare Services in the Community Alison Sparkes, Medicine Centre
Judges Comments:
First place was awarded to Alison as her pharmacy has taken the initiative to take forward public health services in the community and in doing so they have used some innovative ways of engaging with their local community. Advertising their weight loss programme in the local chip shop is just one example of this. The pharmacy is also involved in measuring blood pressure in a local gym's 'New Members' evenings. The portfolio of services has been developed "outside the box" which promotes the responsibility of patients and the public to take an active role in their own health. It reinforces that healthcare services in the community are not constrained to those provided by the NHS. 
Alison has shown a great deal of initiative and professional motivation in setting up these new services in the Neath area. Of particular note was that when she moved to the new pharmacy site in 2004, she decided that they 'would no longer deal with anything that wasn't healthcare related, hence out went the shampoos and nappies.' A very deserving winner.
The award was presented by Donna Hosking of the Welsh Chemist Review magazine who proudly hosted the inaugural Welsh Pharmacy Awards,  in the City Hall Cardiff on Thursday 30th April.
 The Awards were attended by over 240 of the elite of pharmacy including representatives from Community Pharmacy Wales, the Welsh Board of the RPSBG, Cambrian Alliance and the Welsh School of Pharmacy with members of all three groups having contributed to the judging of the Awards.
The Welsh Pharmacy Awards were hailed as a tangible recognition by the pharmaceutical industry of the important role that pharmacists play in ensuring that patients have access to medicines and that they gain maximum benefits from the available services pharmacists provide. The level of interest and the high standard of applications show how the Welsh Pharmacy Awards has already inspired the Welsh pharmacy community as a whole.
Sponsors of the Awards included:
Reckitt Benckiser
AAH Pharmaceuticals
Genus Pharmaceuticals
Royal Pharmaceutical Society Great Britain
Community Pharmacy Wales
& Welsh Chemist Review